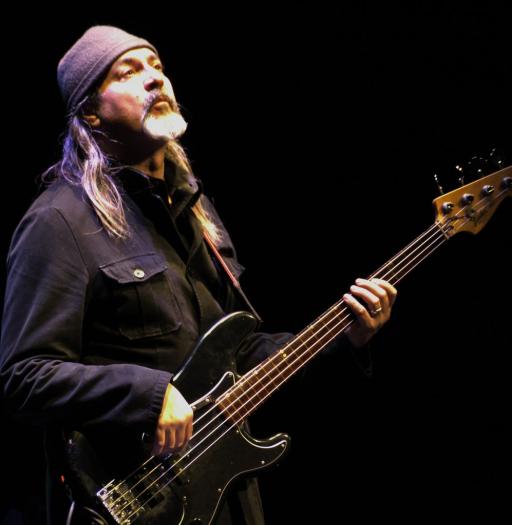 About Bill laswell Mixed BY The Scientist
Early years
Laswell got his earliest professional experience as a bass guitarist in R&B and funk bands in Detroit and Ann Arbor, Michigan. He saw shows that combined genres, such as Iggy and the Stooges, MC5 , and Funkadelic . He was also influenced by jazz musicians John Coltrane , Albert Ayler , and Miles Davis .
New York and Material
In the late 1970s Laswell moved to New York City, [1] immersing himself in the thriving New York music scene. He moved into producer Giorgio Gomelsky 's loft and became part of a group of musicians that would become the first version of Material . Material became the backing band for Daevid Allen [1] and New York Gong . The band consisted of Laswell, keyboardist Michael Beinhorn , and drummer Fred Maher . They were usually supplemented by guitarists Cliff Cultreri or Robert Quine .
He worked with Brian Eno , Fred Frith , John Zorn , Daniel Ponce , Ginger Baker , Peter Brötzmann , Kip Hanrahan , Sonny Sharrock , and with musicians in no wave , a genre that combined avant-garde jazz, funk, and punk. [3]
He started a recording studio with Martin Bisi and met Jean Karakos, owner of Celluloid Records . Under the Material name Laswell became the de facto house producer for Celluloid until the label was sold in the 1980s. He recorded music that was experimental, combining jazz, funk, pop, and R&B, by musicians such as Whitney Houston , Sonny Sharrock , Archie Shepp , Henry Threadgill , and the band Massacre with Fred Frith and Fred Maher. His association with Celluloid allowed his first forays into "collision music", a term coined by British writer Chris May of Black Music & Jazz Review . Recordings with the Golden Palominos and production on albums by Shango , Toure Kunda , and Fela Kuti appeared on the label. Celluloid was an early advocate of hip hop, producing albums by Fab 5 Freddy , GrandMixer D.ST , Phase II , and Afrika Bambaataa . The album World Destruction paired John Lydon with Afrika Bambaataa years before Aerosmith and Run–D.M.C. collaborated on their rock/hip hop version of "Walk This Way".
In 1982, Laswell released Baselines , his solo debut album. A year later, he had a breakthrough with "Rockit", a song he co-wrote and produced for Herbie Hancock's album Future Shock . [1] He played bass guitar and co-wrote other songs on the album, leading to collaborations with Hancock through the 2000s. He won a Grammy Award for producing Hancock's next album, Sound-System . [1]
He became a member of the band Last Exit in 1986 with Peter Brötzmann, Ronald Shannon Jackson, and Sonny Sharrock. [1] Aside from one album that Laswell cobbled together in the studio, the band was primarily a live one, showing up at gigs with no rehearsal. The first time the four members played together was on stage at their first show.
Laswell produced albums for Sly and Robbie , Mick Jagger , PiL , Motörhead , Ramones , Iggy Pop and Yoko Ono . Many of these bands afforded Laswell the opportunity to hire his working crew to record on more mainstream records. Sly and Robbie hired him to produce their 1985 album Language Barrier and 1987 album Rhythm Killers . [4]
Running Axiom
Chris Blackwell , founder of Island Records , gave him the opportunity to begin a label with the backing of Island, and thus Axiom Records was started in 1990. In addition to albums by Material that included Sly and Robbie, William S. Burroughs, Bootsy Collins , Wayne Shorter , and Bernie Worrell , he produced and released albums by Ginger Baker, Ronald Shannon Jackson, Sonny Sharrock, Nicky Skopelitis , and Umar Bin Hassan . Among the studio-based albums, Palestinian oud and violinist Simon Shaheen recorded an album of music by Egyptian composer Mohammed Abdel Wahab . Gambian virtuoso Foday Musa Suso recorded an album of dance music with his electric Kora , and Turkish saz master Talip Oezkan recorded an album. Master Musicians of Jajouka recorded an album in their village in the Rif Mountains. There were albums by Mandinka and Fulani recorded at Suso's family compound in Gambia and Gnawa music from Morocco.
Praxis featured guitarist Buckethead on Transmutation with Bootsy Collins, Bryan Mantia , Bernie Worrell, and Afrika Baby Bam from the Jungle Brothers . The album blended funk grooves and heavy metal riffs with many tracks co-written by Laswell. The band spawned other releases, never with the same line-up, though consisting of the core trio of Laswell, Buckethead, and Mantia.
Funkcronomicon included previously released tracks by Praxis and Skopelitis and tracks with members of Parliament-Funkadelic. George Clinton , Bootsy Collins, Bernie Worrell, and the last recordings of Eddie Hazel are featured prominently. The album includes DXT , Umar Bin Hassan, Abiodun Oyewole and Torture. [5] Laswell remixed the Axiom catalog for Axiom Ambient , blending seemingly disparate tracks, releasing some of the music for Sample Material – International Free Zone , a sample library for other musicians to use as material. [6] [7]
stats: