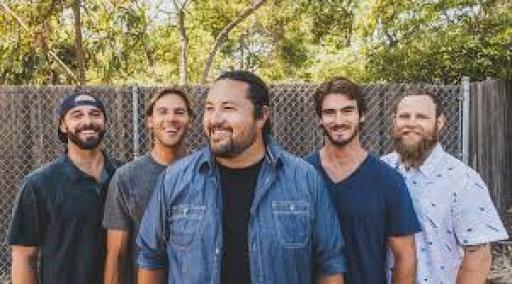 About Iration Mixed By The Scientist
Iration began in   Isla Vista , an unincorporated community connected to   UC Santa Barbara , playing reggae covers in college towns such as   Cal Poly SLO ,   Chico State , and   UC Davis . They recorded an   EP ,   New Roots , in 2006, and built a reputation for their live performance, according to the   Santa Barbara Independent : "There's something to be said for any band that can capture the undivided attention of a crowd full of drunken Isla Vistans, especially when there are kegs to be tapped and cops to avoid. But roots reggae rockers Iration manage to 'do it' on a regular basis." [3]
In 2007, they recorded and released their first full-length album,   No Time for Rest , which topped the   Billboard   Reggae Albums Chart, [4]   and a single, "Cookie Jar", reached number one in Hawaii on 93.9 DaBeat and was featured on   Fuel TV 's   Triple Crown of Surfing   recap.[ citation needed ]   In 2008, Iration embarked on their first national tour, opening for   Pepper .
On October 3, 2008, Iration released their second EP,   Sample This , which debuted as the No. 3 top-selling reggae album world-wide on iTunes.[ citation needed ]   They released their second album,   Time Bomb , in March 2010, which also topped the Billboard Reggae Albums Chart and sold over 36,000 copies. [4]
In the week of February 19, 2011, Iration's third EP,   Fresh Grounds,   hit No. 147 on the "Billboard" magazine's Albums list. [5]   They were featured as No. 1 on the magazine's Heatseekers albums list for the week of February 19, 2011 [6]
In early 2013, after extensive U.S. touring Iration announced they had finished recording a new full length album titled   Automatic   The album was released in July 2013, sold more than 8,000 copies in its first week of release, and topped the   Billboard   Reggae Albums Chart. [4]   Cage The Elephant   guitarist Lincoln Parish is featured on numerous songs, as well as helping produce the upcoming album.
On April 5, 2013, Iration announced that vocalist Kai Rediske had quit the band, leaving Micah Pueschel as the only vocalist/guitarist left in the group. While Iration's official announcement of this via their own website stated Kai left to "pursue other interests", many fans have speculated that the departure was the result of tension within the group due to having two lead vocalists. People that have knowledge of the group dynamic have also stated that Kai's upcoming marriage, and unwillingness to be a part of extensive future touring as a result also played a factor. On April 8, 2013, ThePier.org reported Iration has maintained that the upcoming   Automatic   album and all future shows would not be affected by Kai's departure.
The band's fourth album,   Hotting Up , just as the first three had, topped the   Billboard   Reggae Albums chart. [7]
On March 09, 2020, the band announced their seventh studio album, titled   Coastin' , alongside a promotional tour in the "Coastin' Summer Tour," set to feature roots reggae artist   Tribal Seeds [8] . Due to the COVID-19 outbreak, however, they were forced to postpone the tour.
Members
[
edit
]
Cayson Peterson – keyboards (2004–present)
Joseph Dickens – drums (2004–present)
Adam Taylor – bass (2004–present)
Micah Pueschel (The Rainbow Road Warrior [9] ) – guitar, vocals (2004–present)
Micah Brown – lead guitar, vocals (2014–present)
Drake Peterson – percussion, trumpet (2017–present)
Former members
[
edit
]
Kai Rediske – vocals, percussion
Catlin Peterson – vocals, guitars
Joseph King – dub controls, live sound